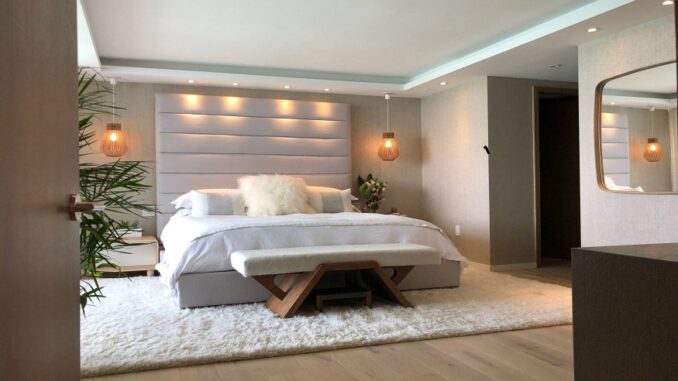 After the master bedroom, the room that deserves the most attention is the guest bedroom. It does not take a lot to make someone feel right at home. A welcoming atmosphere and a comfortable bed are a good start. When you have house guests, it is essential to give them space and privacy. Using wall art painting or hanging knickknacks on walls may make the place cozier. Ensuring extra sheets, pillows, towels are a great way to ensure you make them comfortable. If your guests are planning on staying for a long time, then giving them some space to unpack is also a good idea.
You need not worry about decorating your guest bedroom. Here are a few ways you can make it more comfortable for your house guests.
Lights – Apart from the lighting in the room, it can be a good idea to place a bedside lamp or a night light in the room. These can be useful if someone doesn't like to sleep in the dark or they wish to read.
Mirrors – This is something that can be overlooked easily. Putting a mirror in the guest bedroom as well as the bathroom is essential. The room feels bigger than it is with mirrors. However, avoid placing a mirror in front of the bed.
Multi-purpose – If you don't have an actual room allotted for hosting guests, you can covert part of your house for it. For example, a balcony, a reading nook, or an attic can be converted into a comfortable area for guests. You can have shelves along the wall and drawers underneath the nook to hold the guest items.
Theme – The guest bedroom is generally the smaller room in the house and should be made up in a theme that will make the room look big and airy. Using light and cheery colours is a better option than using dark and bold ones. Dark colours can be used to break the monotony. Painting a wall in a dark colour can give a rather gloomy look.
Details – The more attention you pay to details the happier your guests are going to be. Take care of the smaller things like hooks to hang clothes, provide hangers, keep bottles of water ready, add extra pillows on the bed to make it cozier. You can use lesser decorative pieces and still make the room comfortable.
Art – You can display art on your walls to make them feel more like home. They are sure to feel welcome and excited to be at your house. Avoid putting a lot of photos in the guest bedroom as they add a personalized touch to the room and the guests may end up feeling uncomfortable.
Curtains – Picking out curtains for the guest bedroom should be done thoughtfully. Choose opaque curtains so that your guests feel comfortable resting during the day as well. You can choose sheer curtains or curtains with lighter colours as a backing for the heavier ones.
Clutter-free – Ensure the room is clutter-free and you have enough space to move around. The lesser furniture you place in the room, the bigger the room will look.
The idea of creating a homely atmosphere in the guest bedroom is to make sure your guests feel pampered.