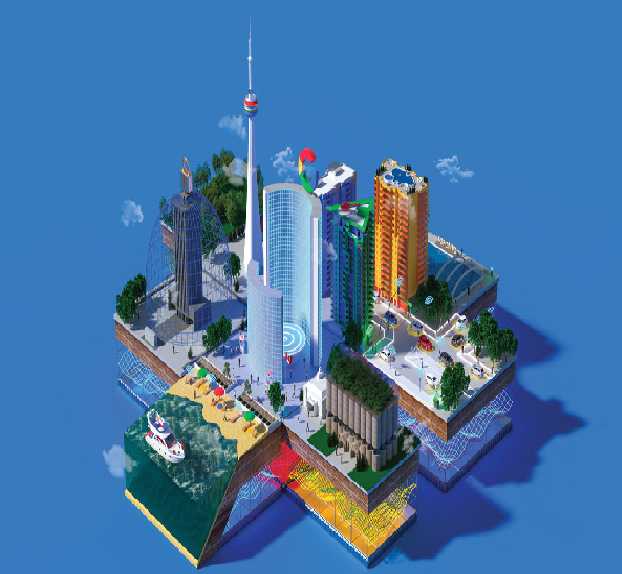 We are accustomed with the term 'smart city' already. For many of us it seems like. natural extension of the high tech urban environment we live in. But the idea of smart city transcends the idea of an urban environment with most inhabitants using smart gadgets and facilities becoming smart with latest gadgets and equipments. The idea of smart city is even bigger than that. Smart city as of now is conceptualised around the smart deployment of connected environment to make public life easier and richer. In doing so, obviously the latest range of high tech devices will play a decisive role.
What are the key ideas that as of now have been developed and nurtured around the concept of smart city? Well, last Mobile World Congress unveiled some great ideas about smart city. Let's have a brief look at them.
Innovative Hi-Tech Solutions To Local Problems
Tech companies can partner with local businesses or administrative bodies to make resource management and public service better. For instance, all water pumps and reservoir systems in a locality can be equipped with smart monitoring capability to monitor the water use and wastage in real time. In this way water consumption versus wastage can be evaluated in real time and the supply can be checked as per the demand.
In the Mobile World Congress this year a smart beehive monitoring solution was introduced by  BeeAndMe that can give valuable technical assistance to beekeepers. The solution can help the beekeepers circumventing all sorts of problems with technical assistance.
Multifaceted And Multi-Layered Solutions
Instead of being stand alone solutions for a particular problem, a smart city technology can be streamlined to solve multiple problems. In the Mobile World Congress AT&T introduced a light pole which is thoroughly equipped with an array of sensors to help public safety and traffic management. The same sensors can also monitor air pollution, detect gunshots and produce weather reports.
Participatory And Citizen Centric Smart City Projects
It is still a big question whether majority of smart city solutions are at all useful for the city dwellers in a practical way. In most cities, such deployment of smart IOT connected solutions failed to generate any significant advantages for the common people. In that respect the model adopted by European city Amsterdam is really commendable. By using citizen sensors for various professionals including scientists, academicians, designers, engineers and common people it shown how human capital can be utilised for better social objectives.
Smart City Solutions That Are Financially Stable
Finally, a smart city solution also needs to be financially viable and stable. If smart city projects need to garner real and practical benefits for the city dwellers they cannot afford to remain limited with the success of a few pilot projects. Many ideas as of now have been surfaced to make the smart city solutions viable for practical deployment concerning real life problems. Most companies and government agencies working in the space of smart city solutions agree that a larger collaboration among various players and a steady focus on day to day problems of a city can only make smart city solutions more practical and better.