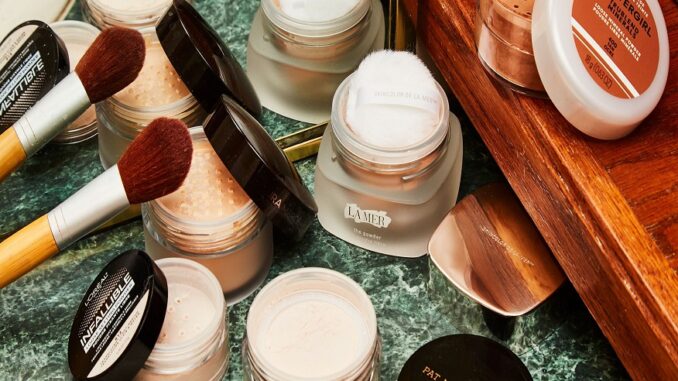 If you are looking for something that can give your makeup a flawless and long-lasting finish and benefits for your skin, then setting powder is the best for this work. It removes the extra oil and moisture from your face. You can use the 'baking' method using setting powders for makeup that does not budge or melt on your face.
Baking is a process in which you use good quality makeup setting powders on your skin and leave it for 5 to 10 minutes. It uses the natural heat of your face and sets your makeup providing it with a long-lasting matte finish.
What should you look for when buying a setting powder?
It is best to choose the right setting powders for baking. Here are a few things that you should look out for when you decide to buy the best setting powder for baking:
Finish
When it comes to giving yourself the desired look, it is best to use a setting powder that also keeps your skin healthy and hydrated as well as mattifies your skin by removing excess oil.
Matching the Shade
The setting powder usually becomes the outermost layer of your look. Even if it is a translucent setting, you still need to ensure that you check whether all their claims are correct. Because some powders may leave a tint or white cast. This can alter your base colour.
Keeping it together
You should make sure that the setting powder does not cover the makeup or change what is underneath. Although it acts as an invisible shield to your look, it should keep everything in place.
Preparation before baking
Before baking your makeup, you need these ingredients:
Makeup Base (Concealer, Foundation, etc.)
Loose setting powder
Your skincare products like moisturizers, etc.
Contour product (Optional)
Makeup Sponge
A Powder Brushes
5 Best Setting Powders for 'Baking'
If you want a flawless look by blurring out your fine lines and pores, then loose powders are one of the best options for baking. Their ultra-fine particles blend into the skin very easily. These translucent loose powders don't cover up the area and make sure that your makeup is intact by putting it together.
Beauty Bakerie Face Flour Baking Powder
If you have oily skin or a combination skin type, then this setting powder is one of the best choices for you. This brand has won hearts globally. The original colour of your makeup will be intact as it comes out with six tinted powder setting shades. All the shades have a translucent finish. It also comes with amazing packaging and is cruelty-free, gluten-free, and vegan.
Benefits
It blurs out the pores
Controls the shine
Sets your overall makeup
Can also be used as a bronzer
Blends in with your makeup easily
Long-wearing formulae and HD features
L'Oreal Paris Makeup Infallible Pro-Sweep and Lock Loose Matte Setting Face Powder
This setting powder can be used in three different ways. If you do not want extra coverage, then this could be a perfect choice for you. It can also be used to bake your makeup and has a universally translucent shade.
Benefits
Its micro-fine particles provide a smooth finish by blurring the pores and lines
Its pro-sweep and lock feature sets up the makeup and provides shine all day long.
Prevents oil and excess shine
It prevents the cakey effect
It bakes the under eyes and even mattifies the lip products
It does not create flashbacks
It is affordable
Laura Mercier Loose Setting Powder
It is not just a simple loose setting powder, it is iconic and award-winning. It works on all types of skin. It contains a botanical blurring powder that is derived from a finely-milled plant. This leads to the absorption of the oil and creates a blurring effect. It is recommended by professional makeup artists.
Benefits
Creates a shine-free and natural-looking makeup
Contains Vitamin C and E
No flashbacks
It is dermatologically tested
Works on all types of skin
Provides shine control for up to eight hours
Provides 16 hours of soft-matte finish
HUDA BEAUTY Easy Bake Loose Baking and Setting Powder
If you want more coverage and an intense colour pigment, then you must go with this setting powder. It comes in eight shades which can be used on almost all skin tones. It is also travel-friendly and handy.
Benefits
Controls and absorbs oil
Blurring effect up to 7 hours after baking
Does not make the look flakey or cakey
It is vegan, Paraben-free, and non-comodogenic
Contains a refined silky pigment and is translucent
Melt-proof makeup and matte-finish
FENTY BEAUTY Pro Filt'r Instant Retouch Setting Powder
It is one of the best setting and baking powders for dark complexions. It is universally translucent and comes in eight diverse hues which range from deep to light. It goes with oily and combination skin tones as well.
Benefits
It provides an air-light flawless finish
Long-lasting makeup without making it cakey
No flashback to photos
Blends in easily to the skin
After getting the right setting powder, you need to properly do the baking. First, you need to prepare your skin by hydrating it with moisturizers and eye cream. Next, you need to build the base with your makeup. Finally, you need to put the setting powder in the highlighted areas. Do not forget to brush off the extra powder. A setting powder is an important part of not only the baking process but also for providing you with flawless airbrushed skin and keeping all the makeup together.
If you are looking for setting powders other than the ones given above, you can check out tira. We have a wide range of products and tips available for you to explore.